Razvalve Butterfly
Razvalve Pacific has recently launched a new range of Wafer and Lugged Butterfly valves.
Our main focus is to the Gas Industry and for this reason we had both our Manual as well as Shut-off & Vent valves tested and Certified to AS Standards by AGA.
Valves have been tested to the relevant Australian Standards with the objective to provide manufacturers, designers, regulatory authorities, testing laboratories and similar organisations with uniform minimum requirements for the safety, performance & use of manual & shut-off valves on natural gas and other gas applications. Consideration given to: continuity of operation, prevention of fire hazards & explosions, prevent of injury, gas rules & regulations & relevant International Standards.
Stock valves are 50mm to 200mm with specially formulated and developed NBR seats for use in Gas Lines.
Manual Valves are certified to AS 4617 standard – refer Razvalve valve Data Sheet 50 (Wafer) & 51 (Lugged) for details.
Shut-off & Vent Valves are Certified to AS 4629 standard – refer Razvalve Data Sheet 52 for details.
All our Butterfly valves are European-made with very high quality and finish.
Our Actuated valves are assembled & tested by us in our Melbourne workshop, to approved AGA requirements and certification.
Our strengths lie in our ability to ensure that we are meeting the needs of the application, providing personal and technical service as well as flexibility to meet our customer's needs. Besides, we always ensure that delivery is made on time.
Automatic shut off valves: are used on gas supply lines to gas fired burners, furnaces, dryers, boilers, steam generators and any industrial equipment using gas as the heat generator. Any equipment which requires a certificate of completion by an inspector from the office of gas safety or other gas authority in your state will require an AGA approved automatic shut-off valve to eliminate the risk of explosion in the event of system failure at the burner. Automatic shut-off valves approved to AS 4629 have a closure time of one-second or less to avoid the possibility of escaping gas in this situation.
Automatic shut-off valves have spring close actuators and solenoid valves from which the manual reset button has been removed to avoid any possibility of accidental opening of the valve after a burner shutdown.
Automatic Vent Valves: are identical to automatic shut-off valves except vent valves have spring open function (fail open).
Purpose of the vent valve is to exhaust any gas trapped between the automatic shut-off valve and the burner or to vent the space between two automatic shut-off valves fitted in series – performing the function of a drain valve in a block & bleed function.  Vent valves are usually small in size. Gas released by the vent valve is normally piped away from the hazardous area and allowed to escape to atmosphere in a safe area. We understand that some systems use a single signal to simultaneously close the shut-off valve and open the vent valve to provide a fail-safe system.
Butterfly Valves – Manual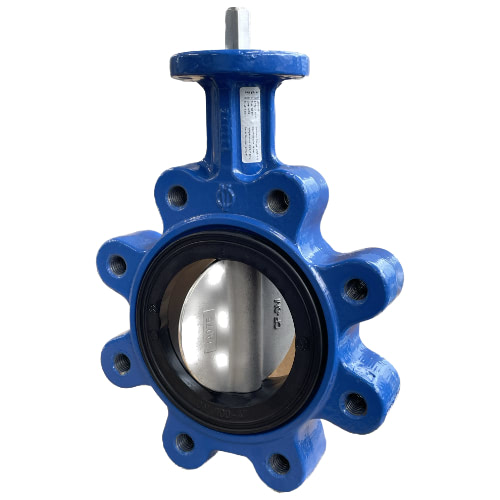 AGA-approved Fig: WDS3-16, LDS3-16
AGA Certificate No.: 9020 to AS 4617 – 2018
Type: Wafer & Lugged End Butterfly valves, single piece body
Style: Pinless design
Operation: Lockable lever, Gear Operated, Pneumatic Actuator, Electric Actuator
Size Range: 50mm to 200mm (AGA Certified); 250mm to 1200mm are non-AGA.
Rating: 1600kPa
End Connections: Universal for Wafer; ANSI 150 & Table E for Lugged
Typical Figure Numbering System
WDS3-16: Wafer through shaft, DI body, 316SS disc, NBR seat
LDS3-16: Lugged through shaft, DI body, 316SS disc, NBR seat
Materials of Construction
Body: Ductile Iron, Aluminum Bronze, CF8/SS304, CF8M/SS316, Carbon Steel/WCB
Disc: 316SS, Aluminum Bronze, CF8/SS304, Carbon Steel/WCB, Nylon & PTFE Coated
Shaft: SS420
Bushing: Nylon-6
Seat: NBR, EPDM, NBR, Viton & other materials
Design: API 609, EN-593
Testing: ISO 5208 / API 598
Butterfly Valves – Shut-off & Vent valves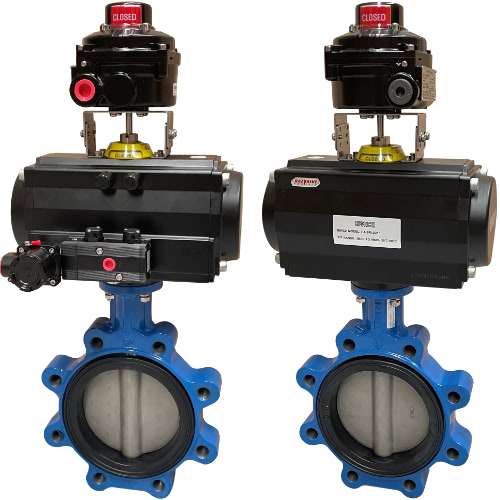 AGA-approved Fig: WDS3-16, LDS3-16
Refer Catalogue and Razvalve Data Sheet 52 for actuated valve details
Pneumatically actuated with 3/2-way solenoid valve & limit switch.
AGA-Certified: Automatic Shut-off & Vent Valves, Class 1, AS 4629-2005 (Including Amendments 1 & 2)
AGA Certificate No.: 9021 to AS 4629 – 2005, Class 1
Classification: General Purpose, Explosion Proof, Intrinsically Safe
Size Range: 50mm ~ 200mm
Rating: 1600kPa
Design: API 609, EN-593
Face to Face: Manufacturers standard
Materials: A216 WCB, A351 LCB, A351 CF8M, Super Duplex
Pressure Testing: ISO 5208 / API 598Top of Form